How to Research Scottish Ancestry using my top 5 tips
Researching your Scottish ancestry can be easy if you follow my 5 top tips.  If, after reading my blog you still need help researching your Scottish ancestry, then contact me. 
The main site for researching your Scottish ancestry is the ScotlandsPeople database.  It is the official site for historical records about Scottish records.
These top tips will help you better research your Scottish ancestors.
1.  1855 is an important year in researching your Scottish ancestors
Before 1855, the key events were registered by the church.  Not everyone registered births and marriages – either because they disagreed with the concept, belonging to another church; or could not afford to pay the small fee to the church; or lived too far away from the nearest church.  Likewise the register may not have survived so you will come across gaps.  
After 1855, the key events were registered by the local registrar.  Everyone was legally obliged to register their births, marriages and deaths.  You can cross check your information with the census returns to make sure everyone is accounted for.
1855 is the golden year.  It covers information over 2 pages and can contain information about the parents' date and place of birth as well as other children.  Here is a snapshot of an 1855 birth register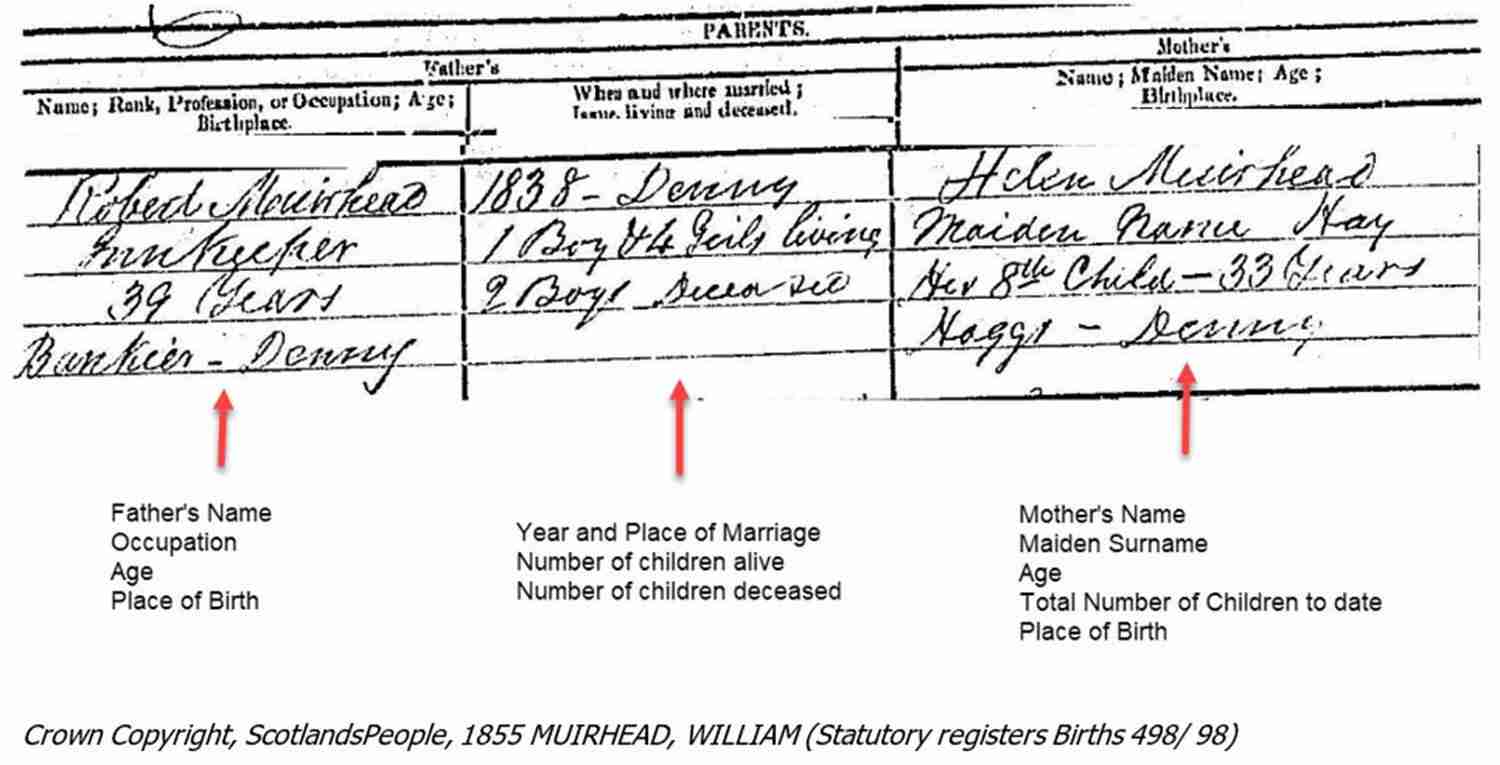 The registrars realised that life was too short so they shortened the registers to one page to contain basic information.
2.  The information from a Register of Corrected Entries can be valuable
For illegitimacy, bigamy or accidental deaths, then look out for the Register of Corrected Entries.  If one of your ancestors fall into one of these categories, then you should look for a stamp in the far-left margin.  If the left margin has been filled then look at the top of the page of the ScotlandsPeople page for another link: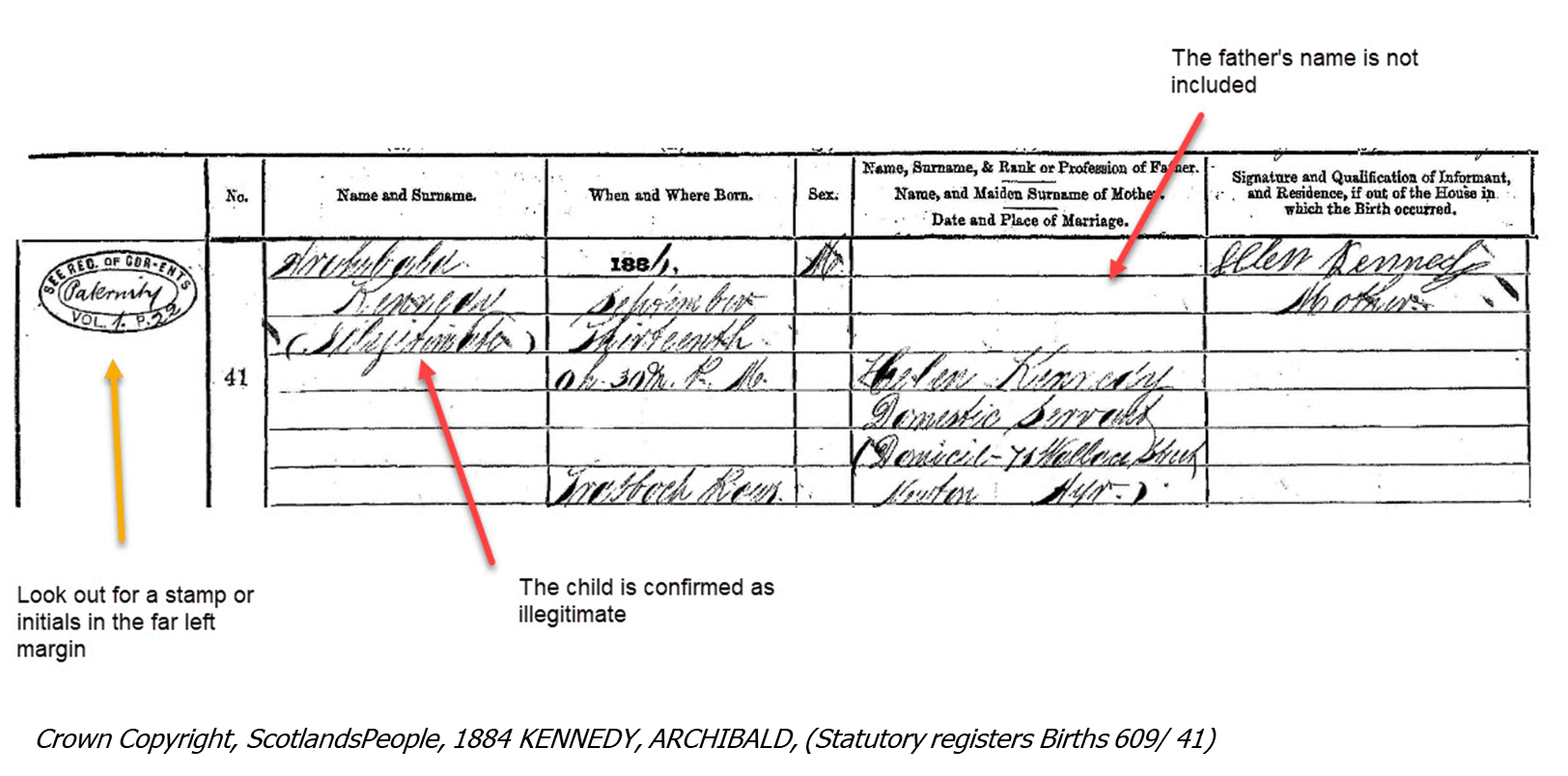 The link at the top of the ScotlandsPeople page will take you to the Register of Corrected Entries (RCE) where, in this case, the paternity of the child was investigated.
3.  Kirk Session Minutes are fun to read about your Scottish ancestors
For juicy gossip, then check out the Kirk Session minutes on ScotlandsPeople website.  Read my other blog here about Kirk Session Minutes.  Recently released online, the records include minutes of the parish's daily affairs.  If your ancestor did not behave then they might be mentioned in the minutes.  Swearers, drunkards, slanderers and those who did not attend church regularly were regularly condemned by the church.  Of particular interest, adulterers were investigated and punished. The reason for this was because the Church of Scotland did not want to financially look after illegitimate children.  Investigations into people's private lives were either written on one line or over numerous pages for several months until the kirk session was satisfied with the outcome.

Margaret and William were eventually exonerated and had a family together. 
The minutes are not indexed but you just need to find the parish your ancestor used to live in and then search by year.  Once you find something of interest then you just need to pay for the page.
4.  Don't forget about the spelling of surnames when you are researching your Scottish ancestors
Scottish surname spellings changed over generations.  They were spelled phonetically and could be spelled differently.  If you have a Mc or Mac then make sure you also research MacLean, McLean and M'Lean – often the Mc/Mac were recorded as M'.  Sometimes the Mc/Mac can be missed out in some documents.  Remember too that if you have a Scottish surname that does not necessarily mean that you belong to a clan.  The clan system was used in the Highlands and the Borders and was not practiced across central Scotland.  See our list of Scottish Sunames for more detailed information – have a look and see if you can find your family name.
5.  Monumental Inscriptions can help your research
Church registers don't contain a lot of information about burials before 1855.  After 1855, some death registers will mention the burial place.  If your ancestor could afford a gravestone, you may find names, dates and other useful information that link families, sometimes across the world (see our article on monumental inscriptions for helpful information).
Here are details about the Burns family from a gravestone at the Alloway Churchyard.  Alloway was the birthplace of Robert Burns.

Summary
Always double check your sources and look for primary sources.  Do not copy somebody else's tree from an online genealogical site.  It will likely have loads of mistakes and not been checked for accuracy.  More importantly, remember to have fun putting together your ancestral puzzle.
If you need help with your research into your Scottish ancestry, then get in touch.
Unlock the meaning, origin and history of the Murray surname. Linked with the Moray region, its origins can be traced to the 12th century.
Read More »
Explore the rich legacy of Scottish weavers and discover where to find them in documents
Read More »
Explore the rich tapestry of pre-1855 burial records in Scotland. Find out where to locate these records offline and online.
Read More »