In my ongoing series on how to research Scottish family history last month I gave you tips on using old maps in genealogy.  This month I am going to show you how monumental inscriptions can help when you are researching your family tree.
Monumental inscriptions are a key and important resource to researching Scottish family history.  They can tell us so much about our ancestors' lives.  Not everyone had a tombstone, such as a labourer, because they could not afford one.  However, if you are lucky enough to come across one in your research, then it can help complete your ancestor's life story.
So, what are monumental inscriptions?
Monumental inscriptions are known as MIs and they are the transcription of words from a tombstone that commemorates a person's life and death.  They can provide a large amount of information about a family and may also include information about generations of the same family.  This tombstone is located in the North Leith burial ground.
They (monumental inscriptions) are very useful if the pre-1855 Scottish registers no longer exist or cannot be found as in the case for William Irving who fell off his horse in Dunning in 1820.  Keep on reading to find out what happened to him.
Sometimes, tombstones were erected years after the death as a way to remember them. Below, David Fisher had a tombstone made for his in-laws which can be found at the Saint Serf's churchyard in Dunning, Perthshire:
What can a monumental inscription tell us?
Monumental Inscriptions can offer valuable information about how a person died and reflect fascinating bygone ways of life. Below, Minister William Irving died falling off a horse in Dunning, near Perth. This tombstone was erected one year after the event. The monumental inscriptions goes as follows: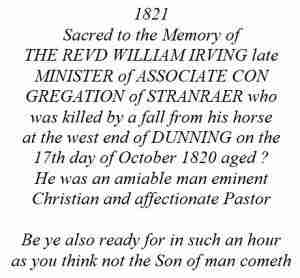 The last paragraph, taken from Matthew 24:44, reminds us to be ready because death can come along when we least expect it.  Today this could be interpreted as enjoy life because you never know when you will die!
William's age is unclear on the tombstone. 
A quick search on ScotlandsPeople pre-1855 death registers did not reveal any information.  However, further online research discovered that he is mentioned on his parent's tombstone located at Dornock graveyard in Dumfriesshire.  Their monumental inscription mention that he was 48 years old when he fell off his horse in Dunning in 1820.  I was curious about him so I researched him further.
As an Associate Congregation minister, he did not belong to the Church of Scotland so his biography will not be in the Fasti Ecclesiae Scoticanae – a fantastic encyclopaedia of Church of Scotland ministers!  Instead I looked him up in the History of the congregations of the United Presbyterian Church, from 1733 to 1900.  This online publication gives a brief account of his life and death.  Originally from Ecclefechan, Dumfriesshire, he was passing through Dunning when he approached a well to allow his horse to have a drink.  According to the publication, his horse apparently fell suddenly.  William was then thrown into the well breaking his neck and died immediately.  How can a horse fall suddenly near a well?  I am not an expert in matters of horses so I continued my search and found an entry in The Scots Magazine (Volume 86, 1820).  This is a more likely account: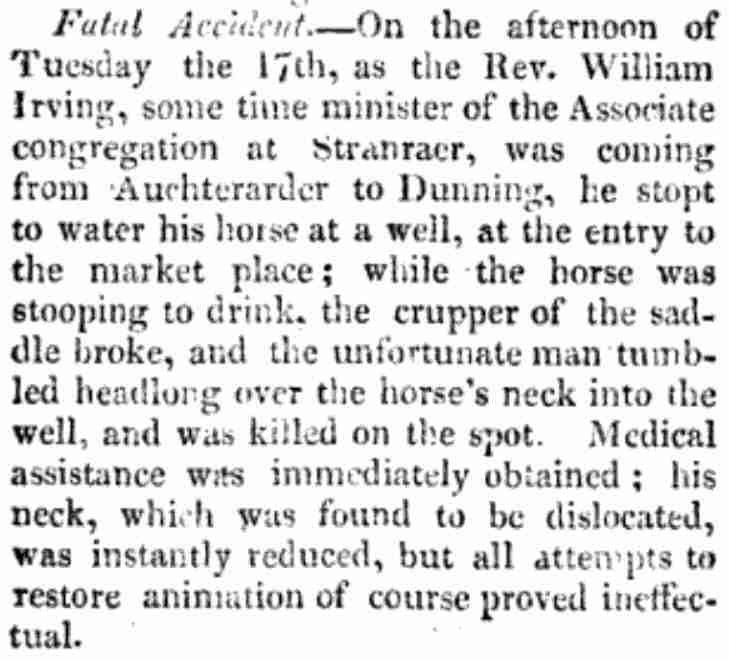 So, from 2 monumental inscriptions and online research, I managed to find out about William's age, life and sudden death.  Therefore, always check monumental inscriptions where your ancestors lived and settled.  You never know where your research will lead you.
Williams' ending was simply engraved on his tombstone with no decoration.  However, monumental inscriptions will sometimes have descriptions of symbols displayed on the tombstone.  If you happen to be visiting a cemetery and wondered what the symbols mean then check the next section.
What do the symbols mean on a tombstone?
Older tombstones, particularly from the 18th and 19th century, were sometimes full of symbolism with special meanings representing life, death, and occupations.
The most popular symbols are:
cherubs or angels – the soul leaving the body ascending to Heaven.
cherubs holding a trumpet – angels of the resurrection.
a standing hourglass – the passing of time.
an hourglass on its side – the deceased died suddenly.
winged hourglass – time flies quickly so use it wisely.
crossed bones and a skull – death or mortality.
square and compasses – a member of the Freemasons.
Where can I find monumental inscriptions for my ancestor?
If you are local to where you ancestors' lived then look for their tombstone in the local parish cemetery.  You can also get in touch with the local burial department of the region where your ancestor lived.
If you are not local, then the great news is that monumental inscriptions can increasingly be found online or in publications.  Thousands of volunteers across Britain have been photographing grave monuments and transcribing monumental inscriptions.  Initially, their purpose was to preserve information before it crumbled or faded away.  Now, they are a key source of information for family historians.
Websites such as Find a Grave (Ancestry), Billion Graves (partnered with FamilySearch, MyHeritage and Findmypast), Deceased Online as well as the Gravestone Photographic Resource Project, to name a few, offer a great resource to look up tombstones.  You will need to subscribe or register for some of the websites.  Also the Commonwealth War Graves Commission (CWGC) maintains an online database commemorating servicemen and women buried in 23000 cemeteries in more than 150 countries.  In Scotland there is the Scottish National War Memorial with an online database of its Scottish servicemen buried and commemorated around the world.
Monumental Inscriptions can be also found in publications online, in libraries or at family history societies.  For example, the Edinburgh Scottish Genealogy Society has an extensive collection of monumental inscription publications covering all parts of Scotland in their library.  They can also be purchased on their online shop.
In conclusion…
… make sure you have monumental inscriptions in your genealogy toolbox.  Read my post on Burial Records in Scotland for information about pre-1855 burial records. You never know what you might discover.  Remember your ancestor's tombstone is the epitaph of their life.  
If you have any questions about this blog, or if you would like to share your own ideas about how family history is important, then leave a comment below to start a discussion….
Unlock the meaning, origin and history of the Murray surname. Linked with the Moray region, its origins can be traced to the 12th century.
Read More »
Explore the rich legacy of Scottish weavers and discover where to find them in documents
Read More »
Explore the rich tapestry of pre-1855 burial records in Scotland. Find out where to locate these records offline and online.
Read More »