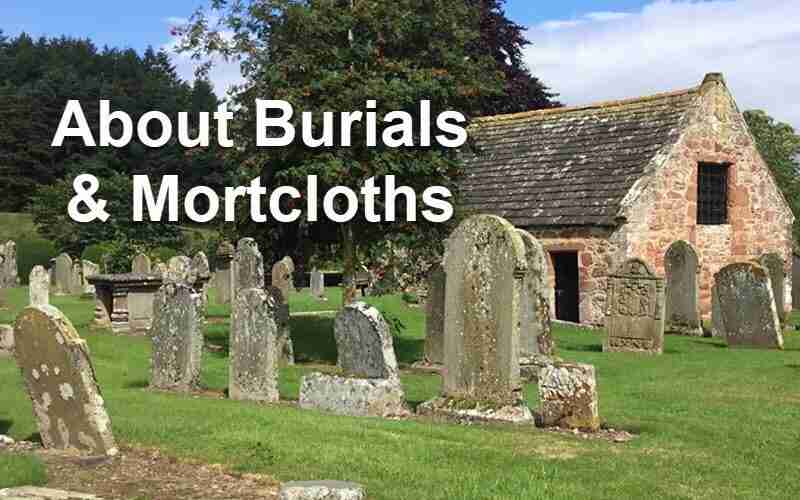 Burial Records in Scotland
Death and burial records in Scotland are a valuable resource for genealogists as well as social and medical historians.  These records can provide information about the final resting places of your ancestors and offer insights into their lives and family connections.  However, there isn't a single straightforward location to search for pre-1855 records.  Instead, there are several accessible sources, and this post will explain where to locate them.
How to find death records in Scotland
1.  Scottish OPR burial records
Before 1855, the primary source of information about Scottish burial records was the OPR burial registers (OPR means Old Parish Register).  They can be accessed on the ScotlandsPeople website.
The information contained in the burial register was normally basic and would often include a name, fee and date.  The writing may be difficult to read.  If you are lucky, you may come across a relation, such as 'son of' or a maiden name.
However, not all Scottish parishes had burial records or complete records, so where else to look?  Read on …
2.  Mortcloth records in Scotland
Some parishes, such as Kinross, had separate records for burial records known as mortcloth accounts.  Some are on ScotlandsPeople's virtual volume while others are archived at the National Records of Scotland.  Similarly to burial records, the information is basic and the handwriting may be difficult to read such as the one below.  Nevertheless, it is always worth looking through them in case you have an indication when your ancestor died.  See later in this post to find out more about 'What is a mortcloth?'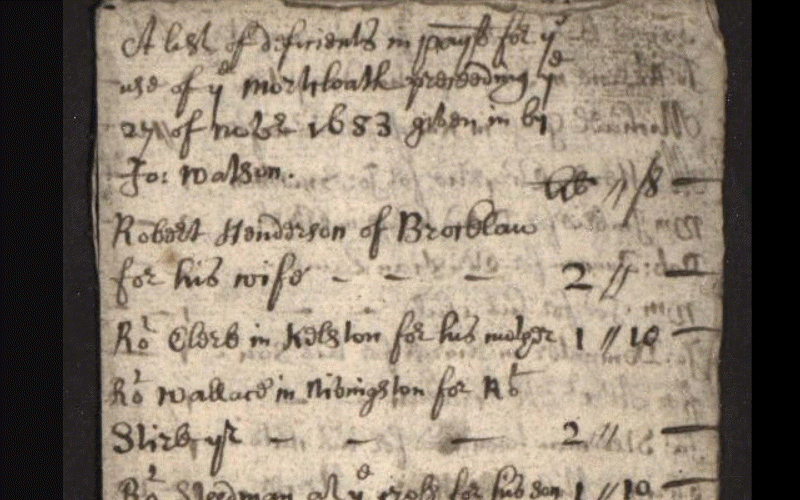 3.  Kirk session minutes
Burial records in Scotland can also be found in many kirk session minutes that included entries for mortcloth fees referring to the rental of the mortcloth.  Additionally, the church accounts might include charges for the grave diggers.  By recording a mortcloth payment, these may provide the approximate date of death for the deceased.  Read my post about kirk session minutes – they are a valuable resource for the family historian.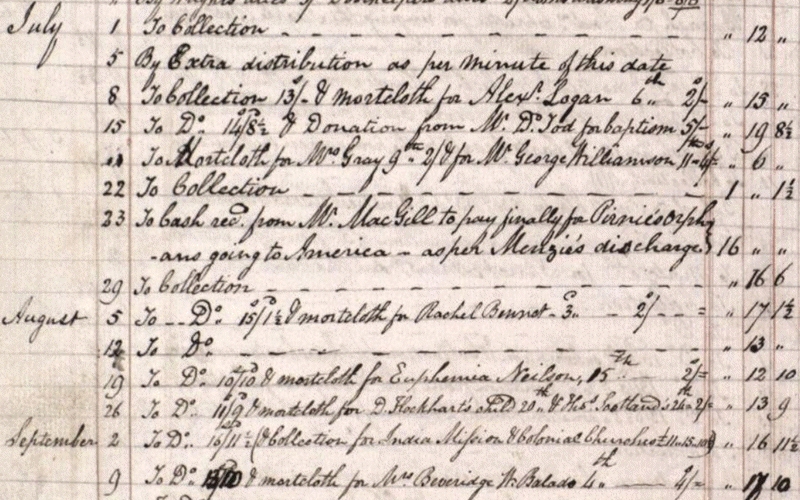 4.  Cemetery records
Scottish city archives will have their own cemetery and burial records.  For example, the Edinburgh City Archives have a collection of burial registers dating from 1771 to 1935.  Individual records included the deceased's name, other family members, cause of death, cemetery, age and important dates in their life.  You can contact the local city archives to look up an entry.  However, be aware that some will charge a fee.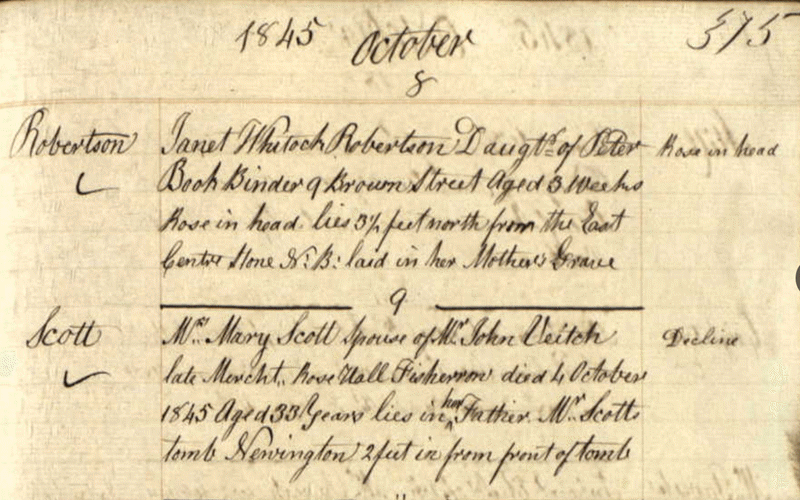 5.  Monumental Inscriptions
Burial records in Scotland can also include monumental inscriptions.  They refer to the text and information found on gravestones.  In addition, monumental inscriptions typically include details such as the name and dates of birth and death of the deceased, as well as sometimes their age at the time of death.  These inscriptions might also contain additional information about family relationships, occupations, and sometimes even religious or sentimental messages.  Read my previous post on monumental inscriptions and how they can help your family research.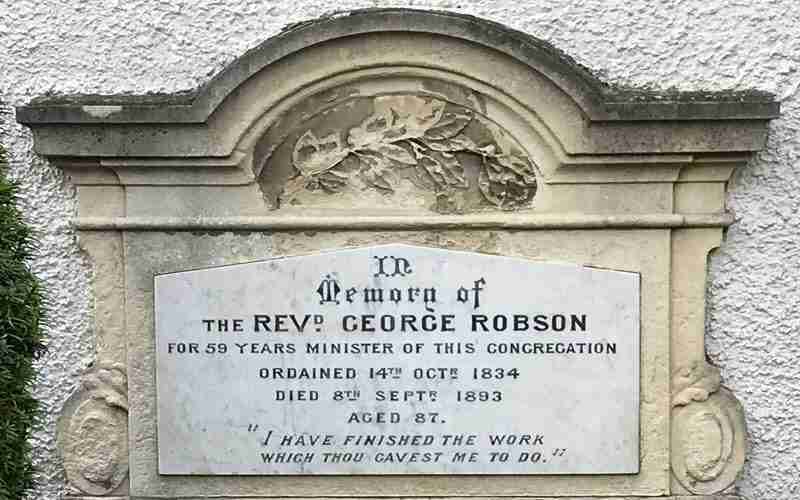 6.  Burial records online in Scotland
You can access some Scottish burial records on paid subscription sites such as Ancestry and FindmyPast.  For example, the Edinburgh City Archives have all the cemetery records on Ancestry.  You will also find burial records online for Glasgow  cemeteries on FamilySearch.  The Friends of the Dundee City Archives have transcribed graveyard and burial records.  Some family history societies, such as the Aberdeen and North East Scotland Family History Society, have transcribed burial records.
7. Family Papers
Sometimes, if you are lucky, you will find invoices for funeral expenses among family papers. For example the Duncan of Lundie family papers at the Dundee City Archives have a folder on invoices relating to the funeral of a family member. So it is worth looking through these papers.
What is a mortcloth?
The word mortcloth comes from the Latin word mors or mortis, meaning 'death'.
Mortcloths, sometimes known as "dead cloths" or "pall cloths," were part of the historical funeral customs in Scotland.  These were special pieces of fabric used to cover the deceased at funerals and during the burial process.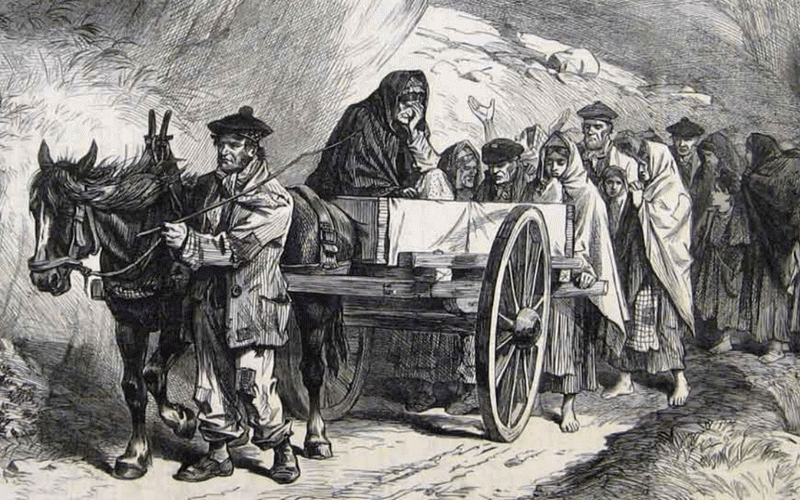 They served both practical and symbolic purposes.  On a practical level, they protected the deceased from the elements during outdoor funerals.  Symbolically, they signified the solemnity and importance of the occasion.
They were owned and maintained by the local parish church and came in various designs often made of heavy, dark-coloured fabric, such as black or purple.  The mortcloth was hired, usually by the family, to cover the coffin if they could afford one, or the corpse itself if the family could not afford one.  The money collected would go towards the upkeep of the church and the poor.
Since the local church was responsible for poor relief until 1845, it would sometimes allow the use of a mortcloth free of charge if the deceased or their family was receiving poor relief.
Before the 19th century, some people joined friendly societies and paid subscriptions for future funeral expenses.  For example, Carluke, Montrose, Glasgow, and Haddington all had a Mortcloth Society.  Their records survive at the National Archives of Scotland.
Over time the use of mortcloths has declined.  Modern funerals tend to use different methods for covering the coffin or the deceased, and the tradition of mortcloths has become less common.
In conclusion,
the burial records in Scotland are a treasure trove of information for family historians seeking to unravel the past and discover more about their Scottish ancestors.  Whether you are exploring parish records, cemetery documents, monumental inscriptions, or other historical sources, these records can provide key details about your family's history and connections.
As you embark on your journey to explore Scottish burial records, remember to be patient and thorough in your research.  Use various resources, both physical and  digital, and consider reaching out to local archives, genealogy societies, or contact me for assistance.  Each record you uncover adds a piece to the puzzle of your family's story.
Good luck with your research.
Until my next post, haste ye back.
Unlock the meaning, origin and history of the Murray surname. Linked with the Moray region, its origins can be traced to the 12th century.
Read More »
Explore the rich legacy of Scottish weavers and discover where to find them in documents
Read More »
Explore the rich tapestry of pre-1855 burial records in Scotland. Find out where to locate these records offline and online.
Read More »