(2-3 minute read)
Do you want to know the meaning or the history of the Scottish surname Reid? Do you have a Scottish Reid in your family tree?  Let's get started with the latest in our series of posts about Scottish family names… this time it is the Reid name and we have a number of Reids who made an impact in North America. Are you related to any of them?
1. Meaning of the Scottish Reid family name
The family surname Reid was the third most popular surname in the Scottish census of 1901 for Kinross.  Indeed, there are still many Reids living in the region of Kinross-shire.
It originally meant red faced, red haired or ruddy. In Gaelic, the word red is Ruadh.  Our famous Scottish folk hero and outlaw, Rob Roy, was known in the Highlands as Raibeart Ruadh, or Red Robert, because of his hair colour. The earliest mention of the Scottish surname Reid appears in Latin as Rufus as early as 1204 for a charter of lands in Lanarkshire.
Down through the centuries the Reids have distinguished themselves in many walks of life.
2. John Reid, gardener and surveyor
John Reid, 1656-1723, the son of a gardener was born in Niddry, West Lothian.  He followed his father's occupation and became gardener to the Lord Advocate of King Charles II. In 1683 he wrote a gardening book, The Scots Gard'ner, which was apparently very popular. The following year he was invited to settle in New Jersey with his Quaker wife.  As an early settler, he did not continue his gardening career. Instead he became surveyor general and was involved in drawing the boundary line between West and East New Jersey.
3. David Boswell Reid, physician and inventor
Born in 1805 in Edinburgh, David Reid was the son of physician and educational reformer Dr Peter Reid and Christian Arnot.  When he gained a medical diploma from the University of Edinburgh, he became a physician. When he was healing the sick, he became aware of the relationship between poor health and poor ventilation.  This interest led him to becoming a ventilation expert. Today he is known as the grandfather of air conditioning because he invented a way to ventilate public buildings, such as the Houses of Parliament. He died in Washington in 1863 at a time when he was inspector of military hospitals at the outbreak of the Civil War.
4. Hugo Reid, early Californian settler
Born in 1811 in Cardross, Dumbartonshire, Hugo left Scotland when he was 18 years old and settled in California. He married a native woman from the San Gabriel Mission and became a rancher near Los Angeles.  He wrote a number of letters for the Los Angeles Star newspaper on topics about the culture of the local Native American tribes. These are now considered important local historical documents.
5. Closer to Kinross, we have
 John Reid was a farmer and had a farm in Aldie, near Cleish, in the 1860s according to The Annals of Kinross-shire. He was chairman of the Fossoway District Ploughing Association and was known locally as 'father of agriculture in the neighbourhood, and as a breeder of stock he stood alone.'
Another John Reid, a teacher from Edinburgh, was appointed parish schoolteacher for Cleish in 1750 and he held this position until 1810 when he died. Don't worry he wasn't teaching in his old age; he had a teaching assistant called Ebenezer Michie who allegedly had a friendship with Robert Burns, our great poet. There is a legend that Burns wrote the following about Michie:
Here Lie Willie Michie's banes;
O Satan! When ye tak' him,
Gi'e him the schoolin' o' your weans,
For clever de'ils he'll mak' 'em!
Farmer, Robert Reid (1728-1822), from Tilliery who outlived all 3 of his wives: Isobel Thompson, Catherine Thomson and Janet Morrison. There is a magnificent gravestone for him and his family at Orwell Churchyard in Milnathort. Monumental Inscriptions can reveal a treasure of information for your family history research.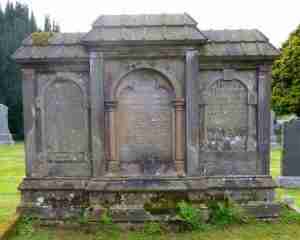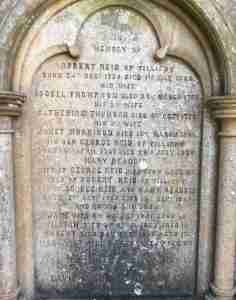 As the 1901 Scottish census stipulated, there were many more families with the surname Reid in the Kinross-shire region.  If you know you have a Scottish Reid in your family tree and want to learn more about them, then contact Sarah at Unlock Your Past who will get you started on your family history journey.
Leave a comment for Sarah who is here to help with your genealogy question.
Other surnames can be found in our growing list of Scottish family names.
Unlock the meaning, origin and history of the Murray surname. Linked with the Moray region, its origins can be traced to the 12th century.
Read More »
Explore the rich legacy of Scottish weavers and discover where to find them in documents
Read More »
Explore the rich tapestry of pre-1855 burial records in Scotland. Find out where to locate these records offline and online.
Read More »