Kinross Scotland
Have you heard about Kinross in Scotland? And its links with gold, Mary Queen of Scots and Robert Burns?
Perhaps your ancestor lived in Kinross and you always wanted to know more about it. It is a place of historical importance with fascinating stories from the settlement of medieval Monks to the imprisonment and escape of Mary Queen of Scots.  Read on for more interesting facts…..
1.  Where is Kinross in Scotland?
Kinross is located on the western shore of Loch Leven, 30 miles north of Edinburgh.
2.  My ancestor was a miner – did you know there was a 'gold-rush' in Kinross?
In 1852, a convict who had been transported to Australia had written home to Kinnesswood, the village beside Kinross on the shores of Loch Leven.  In his letter he had mentioned that there were rocks with sparkles of gold in the Lomond Hills above Loch Leven.  After that, the news spread around the village and before they knew it, about 2000 prospective miners descended on the hills to look for the gold.  The gold rush made national news: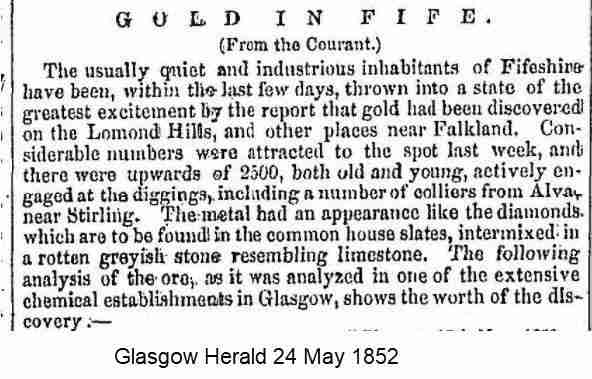 However, the 'gold-rush' was short-lived. The gold-like ore turned out to be 'fool's gold', a common iron pyrite. I come across many miners when I research for clients. If they were involved in a mining accident, they may be mentioned in a newspaper article. Get in touch if you want me to help research your family history.
3.  Early Scottish history – did you know it was first written in Kinross?
Prior Andrew Wyntoun wrote the first history of Scotland on St Serf Island on Loch Leven. This was a compilation of stories including Macbeth's three witches and it is likely that he wrote them on the locally made parchment. The Birrell family later made the parchment and lived in Kinross and its surrounding area for many centuries – do you have a Birrell in your family tree?
4.  Mary Queen of Scots was imprisoned here
In the 16th century, Mary Queen of Scot was imprisoned at Loch Leven castle, situated on an island on Loch Leven. Three very important events occurred there that changed her life.  Firstly, she prematurely gave birth to still born twin babies.  Soon after the tragedy, she was forced to abdicate.  After nearly a year as a prisoner, Mary made a daring escape from the island. She headed south where she was placed under protective custody at Carlisle Castle.  At the time, she did not know that she was to spend the next 19 years as a prisoner and end up on the block in 1587. Historic Scotland looks after the now ruined Loch Leven castle where the tragedies took place and you can go on a boat to visit the island.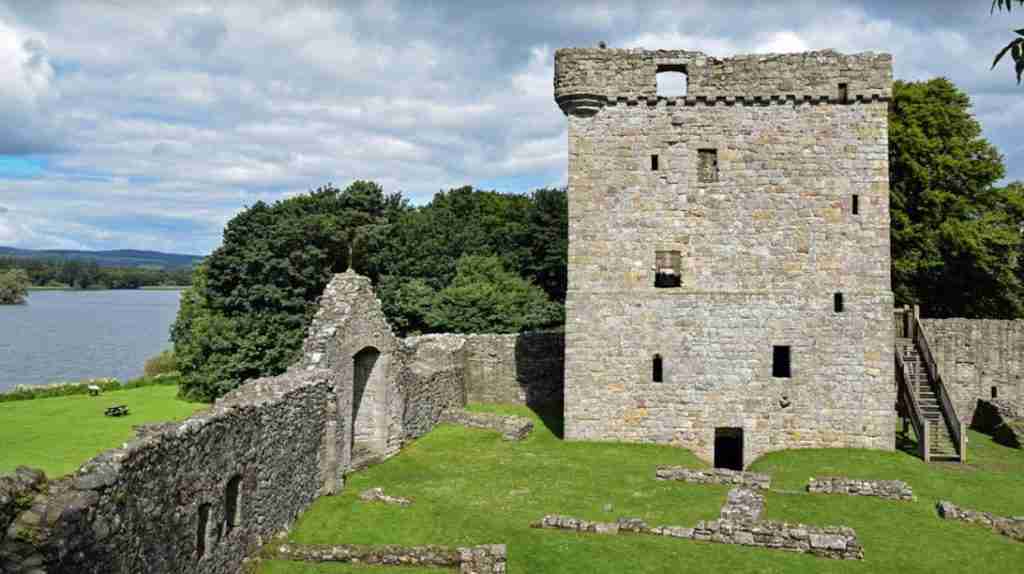 5.  My ancestor was an innkeeper – some of the 18th century coaching inns are still in operation
Kinross became a staging post on the Great North Road in the 18th and 19th centuries. Some of the coaching inns still survive in Kinross: the Kirkland's Inn and the Green Hotel. While researching a Kinross family for a client in Nova Scotia, I came across Mrs Skelton who ran the kitchen at the Kirkland's Inn in the 1770s.  She was apparently well known for her cooking and would teach others how to cook. Come and have a drink or meal there if you are passing through. Perhaps your ancestor stopped at one of the inns on the way to Edinburgh.
6.  Kinross House
The second oldest building in Kinross is Kinross House (The first one is the Old Tollbooth). It was built in the 1680s and designed by Sir William Bruce.  He was King Charles II's architect and he helped to design Holyrood Palace in Edinburgh.  It has now been restored to its former beauty and can be rented for exclusive events. Did your ancestor work at Kinross House? The National Records of Scotland has archives of receipts belonging to labourers and servants who worked at Kinross House. Perhaps your ancestor was a servant or gardener there? Get in touch if you would like me to research the Kinross House receipts from the 17th century.
7.  Kinross Cashmere – part of Scotland's weaving history
During the 18th and 19th century, Kinross was a centre for weaving and by the late 20th century it became a world leader in cashmere weaving.  If your ancestor was from Kinross, he/she may have been a weaver.  There is still a mill operating in Kinross and it specializes in cashmere at Todd & Duncan. Read my blog about Scottish Weavers.
8.  Loch Leven
Was your Kinross ancestor a fisherman? If you enjoy fishing, come and visit the trout fishery at Loch Leven.  The loch is famous nationally and worldwide, among the fishermen, for its unique brown trout.  It used to be transported and introduced in waters across the world.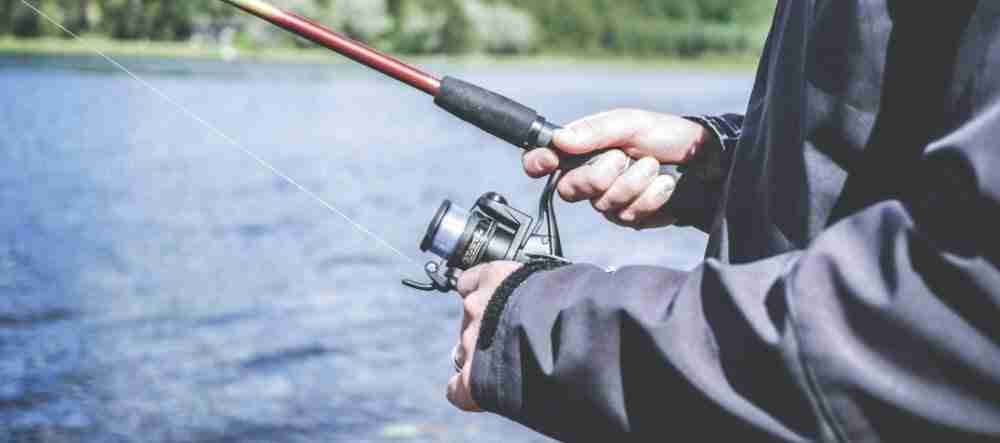 Loch Leven was a mecca for fishermen around the world. That is to say, it was once to fishing as St Andrews is to golf. It is where the UK home international trout and fly-fishing championships as well as the Commonwealth Championships were held. 
In the early 1990s at a Commonwealth Championship on Loch Leven, South Africa participated in their first sporting event after the end of apartheid. Competitors included the home nations, Canada and New Zealand. The opening ceremony was held in the Kinross Town Hall with a civic reception.
9.  Bird Protection
If you are a nature lover, the RSPB (Royal Society of the Protection of Birds) is located by Loch Leven where ospreys visit the loch to fish during the summer. Similarly, you can even see thousands of pink-footed geese who migrate from Iceland after the autumn. Was your ancestor a nature lover?
10.  Robert Burns Begg and his descendants
Did you know that Kinross has a connection with the famous Scottish poet Robert Burns? His nephew, Robert Burns Begg, was the local Kinross teacher for 51 years.  In addition, he married Grace Beveridge and had 10 children.  Are you related to any of them?
In conclusion, if you have an ancestor from Kinross, get in touch with Sarah who can help you with your ancestral research.
Unlock the meaning, origin and history of the Murray surname. Linked with the Moray region, its origins can be traced to the 12th century.
Read More »
Explore the rich legacy of Scottish weavers and discover where to find them in documents
Read More »
Explore the rich tapestry of pre-1855 burial records in Scotland. Find out where to locate these records offline and online.
Read More »