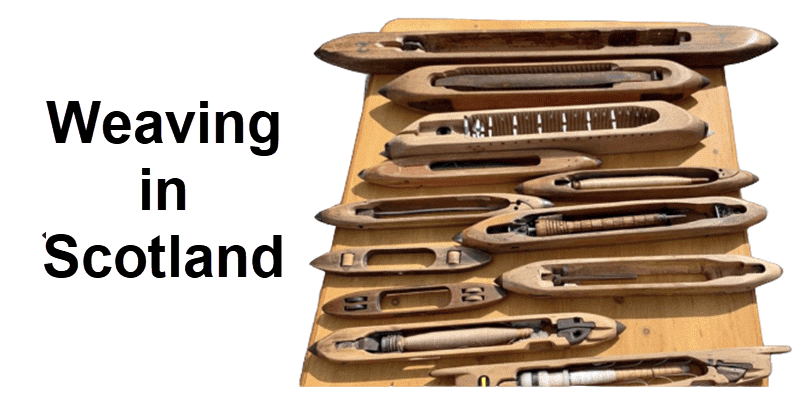 If you have been researching your ancestors, you may have come across Scottish weavers in your family tree.  This old occupation was prolific in many areas of Scotland as there were many different types of weavers depending on locality. For example, there were cotton, wool, jute, or silk weavers.  It was originally a cottage industry, with families producing cloth on hand looms to sell.
Do you have Scottish weavers in your family tree?
So, was one of your ancestors a Scottish weaver?  It is fairly likely as a lot of the Scottish population was engaged in spinning and weaving during the 18th and 20th centuries.
Spinners and weavers are two distinct roles in the textile production process.  Spinners were responsible for the initial stage of textile production, which involved converting raw fibres (such as wool or cotton) into yarn or thread.  Weavers were responsible for the second stage of textile production where the spun yarn or thread was weaved to create fabric or cloth.
Also, women usually did the spinning, hence the word 'spinster'. Men would normally do the weaving because it required physical work.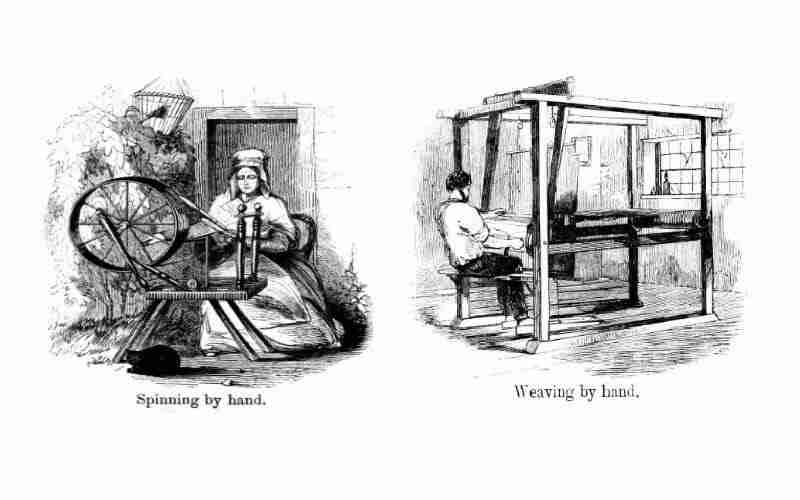 Weavers were traditionally recognised as skilled and better paid, while spinners were often considered unskilled and received lower wages.
If a weaver made a mistake in the final stages of the product, it would mean starting over again and wasting materials.
In contrast, if a spinner made a mistake, it was typically a simpler matter of reassembling the yarns and starting over.
History of weaving in Scotland
The Industrial Revolution brought about new innovations in the technology of textiles.  For example, the power loom and the spinning jenny revolutionised textile production. The wool and cotton industries in various Scottish regions began to flourish bringing new opportunities to Scottish weavers.  For example,
the Scottish Borders was known for crafting high-quality tweeds,
Paisley was famous for its patterned shawls,
Dundee stood out for its production of jute textiles, the "fabric of a thousand uses".  This versatile material even served as the fabric for pioneers' wagons in the American West.  Check out the Verdant Works in Dundee for more history about jute weaving.  They even have a section on family history!
Dunfermline was known for the production of damask fabric,
New Lanark was known for cotton weaving and for having the largest cotton mill in Scotland,
Hawick was the centre of the wool industry.  It was well supplied with water to drive mills, surrounded with lush grass to feed the sheep, and the soft Scottish rain helped to give the knitwear an extra-special soft feel to the touch.
Over time, the textile industry faced challenges, including competition from abroad.  Many Scottish mills and factories closed during the 20th century.
However, there are still specialist weavers using traditional weaving techniques and producing high-quality craft textiles, such as the Newburgh Handloom Weavers in Fife and the more well known weavers of Harris Tweed.
In Kinross, on a more industrial scale, Todd & Duncan has been weaving for over 150 years and today it produces high-quality cashmere clothing.  Read my blog about Kinross and weaving.
Where to find Scottish weavers in old documents?
Scottish weavers appear in many different types of documents:
Census returns – you may come across 'HLW' beside an ancestor's name.  This acronym was for 'Hand Loom Weaver' who operated small, foot-powered looms within their own homes. (image below from an 1841 census return)
Electoral or Valuation Rolls – this example below comes from the Kinross Electoral Roll of 1832 (credit: Kinross Museum)
Newspapers are an amazing resource to identify ancestors particularly if their occupation is mentioned.  See below where a weaver called Stenhouse Grieve was convicted for assaulting his mother (Kinross-shire Advertiser 4 January 1879)

Militia Rolls – during the Napoleonic wars, conscription was determined by a ballot system and only some men were eligible to serve.  Militia rolls will normally include occupations (excerpt below from the Scottish Borders Archive & Local History Centre, reference R/LR/1/1)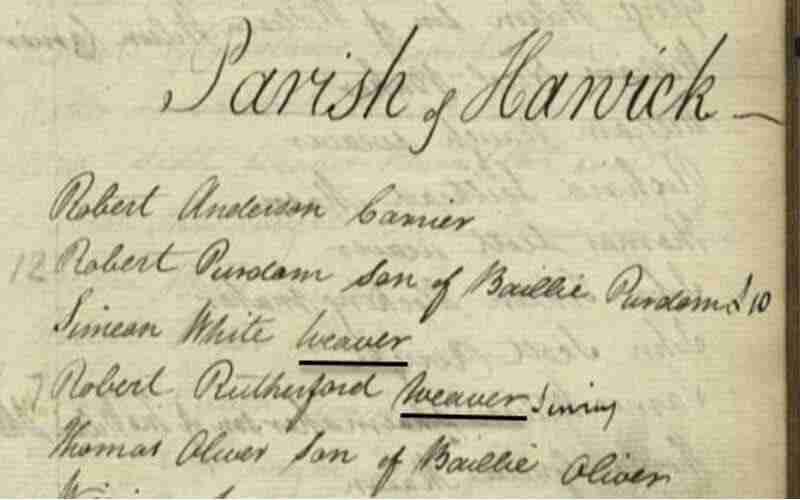 the birth, marriage, and death registers will certainly include the father's occupation and sometimes the bride's occupation.
In addition, you can find Scottish weavers in family and estate papers, sasines (land documents), deeds, Wills & Testaments, and many other amazing documents at local archives.
History of weaving tartan 
Tartan is a distinctive woven check pattern associated with Scottish clans.  A symbol of Scottish identity, its history stretches back to the 17th century when weavers used natural dyes, from plants and berries, to create simple check patterns.  After the Jacobite rebellion of 1745, the Tartan Act of 1746 tried to regulate the wearing of tartan as a way to control the Highland clans.  The Act was repealed in 1782, leading to a resurgence in wearing tartan.
Actually, wearing tartan was also made popular by Sir Walter Scott.  It even received royal endorsement when King George IV visited Edinburgh in 1822.  He wore a specially designed tartan kilt during his visit, leading to increased interest and popularity.
More importantly, Scottish weavers have been instrumental in preserving the traditional art of weaving tartan patterns.  The Tartan Register helps to preserve the traditional patterns by registering each tartan.
In conclusion…
Scottish weavers have deep historical roots.  If you are lucky to have a weaver in your family then you should be proud of them.  They played an important role in providing fabric and iconic Scottish patterns like tartan and tweeds.  Their skills contributed to the cultural and economic history of Scotland.
Let me know in the comments below if your ancestor was a weaver in Scotland (or if you want me to write a blog about one of your other ancestor's old occupations).
Good luck with your research.
Until my next post, haste ye back.
Unlock the meaning, origin and history of the Murray surname. Linked with the Moray region, its origins can be traced to the 12th century.
Read More »
Explore the rich legacy of Scottish weavers and discover where to find them in documents
Read More »
Explore the rich tapestry of pre-1855 burial records in Scotland. Find out where to locate these records offline and online.
Read More »