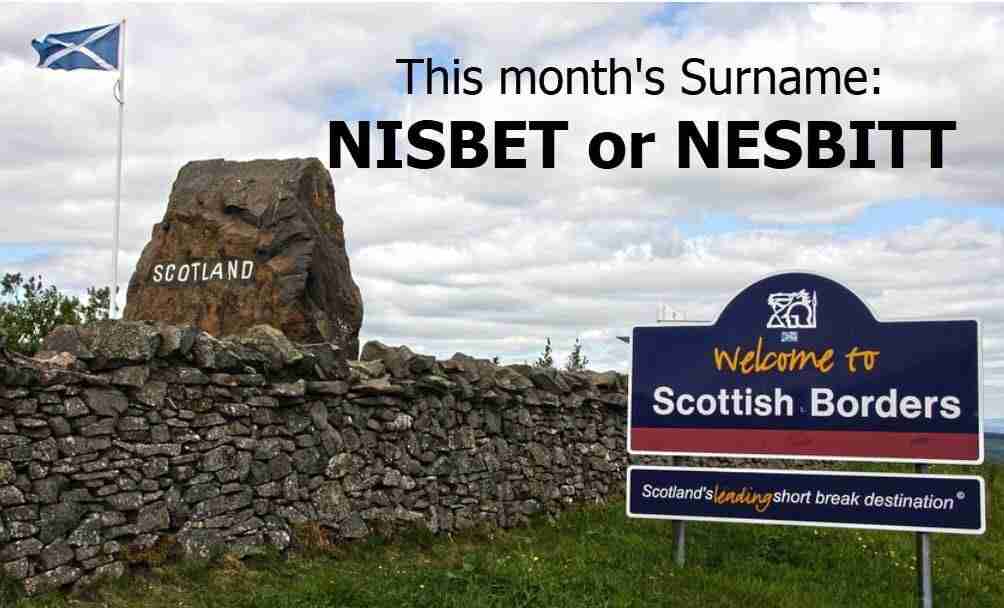 Behind the Scottish Surname: Nisbet or Nesbitt
Do you want to know the meaning or the history of this amazing Scottish surname?  Let's get started with the latest surname in our series of stories about Scottish family names… this time it is the Nisbet or Nesbitt surname, and we have a number of people who made an impact in Scotland.  Are you related to any of them?
Variations of the Scottish Nisbet Surname
The surname Nisbet is a variant of 'Nesbitt' or 'Nisbit', although alternate spellings include Nisbeth, Nisbett and Nesbit.  There are apparently over 200 variations of the surname according to the Nesbitt Nisbet Society.
The meaning of the Nisbet or Nesbitt Scottish Surname
'Nese' means nose and 'bita' meaning a piece of raised ground or a bend in a river.  Therefore, Nisbet probably means raised land shaped like a nose, or a bend in a river shaped like a nose.  Indeed, both Nisbet village in Roxburghshire and Nisbet House in Berwickshire are situated beside the bend of a river.
The Origins of the Nisbet Scottish Surname
It is likely that the name came from the Scottish Borders.  In Roxburghshire, there is a pretty hamlet called Nisbet located between Kelso and Jedburgh near the river Teviot.  This hamlet is part of a conservation zone.  Significantly, it is a great example of an estate village that hasn't really changed since the 19th Century.  It was built for the farm workers of West Nisbet and East Nisbet farms.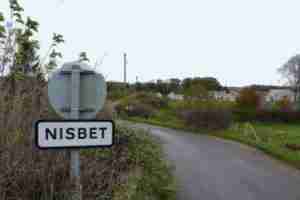 In Berwickshire, Nisbet House is located south of Duns near the river Blackwater.  Built in the 17th century by Sir Alexander Nisbet, it used to have a moat which is no longer there.  The Nisbet family don't own it anymore, they lost it during the Civil War when the family overstretched their finances for supporting King Charles I.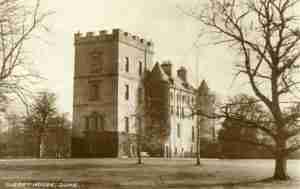 Several Nisbet families held estates in various parts of Scotland.  The Nesbitt/Nisbet Society of North America has an interesting pdf map showing the different locations of Scottish castles named after the Nisbet family.
First Recorded Spelling
The first recorded spelling of the family name was Willian de Nesebite who witnessed a deed of the Nesbite lands to the Priory of Coldingham.  There was also Robert de Nesbit who was a witness in a document belonging to the records of the Abbey of Kelso from the late 12th century.  Interestingly, this Scottish surname was brought to Sweden in the 16th century where many descendants still live in the country.  Nevertheless, the surname and its variations continued to be used over the centuries.
Well known people with the Nisbet or Nesbitt name
Known Scottish people who made an impact with this Scottish surname included:
Alexander Nisbet (1657–1725), Scottish Heraldist
John Nisbet, Lord Dirleton (1609–1687), Scottish Judge
John Nisbet (1627–1685), Scottish Covenanter
Mary Nisbet (1778–1855), Countess of Elgin
Murdoch Nisbet (1531–1559), Scottish Bible Translator
Scott Nisbet, Scottish Footballer (Rangers FC)
James Nesbitt (b. 1965) Irish Actor
If you know you have a Scottish Nisbet or Nesbitt in your family tree and want to learn more about them, then contact Sarah at Unlock Your Past who will get you started on your family history journey.
Look out for future blogs on Scottish surnames.  Let me know if you want me to write about your Scottish surname, just leave a comment below…
Sarah x
Unlock the meaning, origin and history of the Murray surname. Linked with the Moray region, its origins can be traced to the 12th century.
Read More »
Explore the rich legacy of Scottish weavers and discover where to find them in documents
Read More »
Explore the rich tapestry of pre-1855 burial records in Scotland. Find out where to locate these records offline and online.
Read More »