Are you interested in the Montgomery Surname?
Here is the latest in our series of posts about Scottish family surnames… this time it is about the Montgomery surname.  The Montgomery surname origin and heritage is a really fascinating story.  Are you related to a Montgomery?
Click here if you want help researching your Montgomery family history.
The Origin of the Montgomery Surname
Legend has it that this popular surname probably came from a Viking called Gomeric who visited an area south to Calvados, now called Lisieux.  He must have liked what he saw because he settled there and called it the Mount of Gomeric.  This eventually became known as Montgomery.  Since then, the Montgomery families have changed history.
The Montgomery Crest and Motto
Their clan crest is a woman holding a sword in one hand and a person's head in the other hand.  Their motto is Garde Bien which means 'watch well.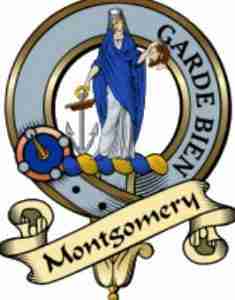 Montgomery Name Arrives in Scotland
The Montgomery surname arrived in England in 1066 when Roger de Montgomerie left his Lisieux family home.  William The Conqueror granted him lands in England and Wales where the county Montgomeryshire was established.  Although Roger had many castles, he built Arundel castle in Norfolk.
Apparently, the first person to bring the surname to Scotland was Roger's grandson, Robert of Montgomery.  He had obtained a grant of lands at Eaglesham in Renfrewshire for supporting the King.  Here the popular Clan Montgomery was born.  The Montgomery family remained in Eaglesham for about 7 centuries.  Over the centuries, they became an influential family and acquired many lands.  Today some of the streets in Eaglesham are named after the Montgomery name.
Montgomery Incidents and Feuds
Not only did they serve the Scottish crown, but they also served the French crown since the Auld Alliance was created in 1295.  Members of the Montgomery family were soldiers, bodyguards as well as courtiers of the French court.  In 1559, Count Gabriel Montgomery was Captain of the Scots Guards of the King of France, Henry II.  To celebrate peace arrangements between France and Spain, King Henry organised a gala with jousting and celebrations.  Gabriel was invited to take part in a joust with the King of France, Henry II, who loved jousting.  Unfortunately, Gabriel accidentally killed the king.  Before he breathed his last breath, the king forgave Gabriel.  However, his wife, Catherine de Medici never forgave him and eventually had him beheaded 15 years later in 1574.
The Montgomery family was also involved in one of the longest clan feuds in Scotland that lasted a few centuries.  The feud started when the Montgomery family was given the title of Baillie of Cunninghame, a title that the Cunningham family had held for generations.  The Cunningham family had fallen out of favour with the Scottish crown which is why the neighbouring Montgomery family was given the title.  A series of tit for tat killings, attacks and murders between the families took place for the next 150 years.  It settled when a marriage took place between William Cunningham and Margaret Montgomery in 1661.
The Montgomery Families Across the World
Branches of the Scottish Montgomery family spread to many parts of the world.  They went to France in the 15th century, to Ireland and Sweden during the 17th century and eventually to America in the 18th century.  There are about 18 counties named Montgomery in America.  Genealogical books about the family have been published and many can be found at libraries or on archive.org.
Famous Montgomeries:
There are so many to list but here are some you may be familiar with:
American actress, Elizabeth Montgomery (1933 – 1995), was best known for her role as Samantha in Bewitched.
Colin Montgomery with Scottish parentage is well known in the world of golf as one of the best golfers of his generation and a point scoring 'legend' (and captain) of victorious Ryder Cup teams!
Field Marshal Bernard Montgomery (1887-1979) was a British general of World War Two, famous for his victory at the Battle of El Alamein in November 1942.
So, what now?
If you like my blog series on Scottish surnames and how to research Scottish family history, then be sure to check out my blog again.
Alternatively, contact me to discuss if you would like me to research your family tree.
If you have any questions about this blog, or if you would like to share your own ideas about how family history is important, then let me know or leave a comment below ….
Unlock the meaning, origin and history of the Murray surname. Linked with the Moray region, its origins can be traced to the 12th century.
Read More »
Explore the rich legacy of Scottish weavers and discover where to find them in documents
Read More »
Explore the rich tapestry of pre-1855 burial records in Scotland. Find out where to locate these records offline and online.
Read More »