Behind the Name – the Birrell Surname
In my ongoing series of posts on Scottish Surnames, this month I am writing about the Birrell surname as I am currently researching the genealogy of this Scottish family.  If you have Birrell ancestors, then this might be of interest to you … Alternatively contact me if you want me to look into your Birrell family history.
The surname Birrell doesn't sound Scottish, but it has certainly been in Scotland since the 12th century when Henry Burel witnessed a charter to the Abbey of Kelso in the Borders.  A variant of the surname Burrell, here are some people who shared the surname:
John Burrelle was a witness at an inquest at Roxburgh in the Borders in 1357
Andrew Birrell was the burgess of Berwick in 1449
Andrew Birrell, was the bailie and burgess of Kirkcaldy in 1540
Sir Andrew Burrell, a Pope's knight had land in Glasgow in 1549
Henry Birrell sold property in Glasgow in 1551
John Burrell, a poet, wrote about Anne of Denmark in 1590
John Birrell is noted in the parish records of Gargunnock near Stirling in 1607
George Berrell was a portioner in Kinnesswood, near Kinross, in 1685. A portioner was someone who shared property.
Sir William Burrell (1861 – 1858) was a wealthy shipping magnate and art collector from Glasgow.  He donated his magnificent art collection to Glasgow who later opened up the Burrell Collection Museum.
Origins of the Birrell Surname
It is likely that the Birrell surname originally came from the village of Burrill in North Yorkshire.  Also, the surname Borel was found in the Domesday Book of 1086.  Translated, this old surname means 'hill with a fort' from Old English 'burh' and 'hyll'.  However, it is also recorded to mean 'reddish brown' from Old French or a coarse woollen cloth of a reddish colour from 'bureller', an old English occupation word to mean clothmaker.
The Birrell surname did make its way to Berwickshire in the Scottish Borders by the 12th century when numerous Burrells were witness to historical documents.  The name was also common in Glasgow in the 16th century.  It later migrated to Fife by the 18th century.
The Birrell Tartan
The Birrell tartan first appeared in the 1819 Key Pattern Books of Wilson of Bannockburn.  However, it was apparently mentioned in earlier correspondence by Mr Stewart from Wilsons of Bannockburn.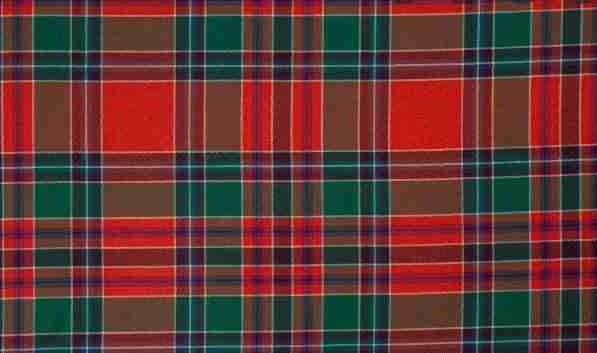 Which Scottish Surname should I cover next?
Look out for future articles in my growing list of Scottish surnames.
And please do let me know if you want me to write about your Scottish surname…
Sarah x
Unlock the meaning, origin and history of the Murray surname. Linked with the Moray region, its origins can be traced to the 12th century.
Read More »
Explore the rich legacy of Scottish weavers and discover where to find them in documents
Read More »
Explore the rich tapestry of pre-1855 burial records in Scotland. Find out where to locate these records offline and online.
Read More »