Surnames evolved as a way to put people into groups whether by their occupation, place of origin, patronage, clan or even physical attributes. The surname Warden was first used in England to mean watchman or guardian.
The Wardens
The name is first found in 1066 and it was used by a gentleman named Wluric Uuerdenus in Hertfordshire. The name later appears in the 13th century with many variations including Symon de Waredon (1232), Walter Wardein (1279), John le Wardeyn (1289), Elyas de Wardon (1297). By the 16th century there is evidence of the surname Warden being used as it is today when Anne, wife of Robert Warden, poulter, was buried in 1595 in the small parish of Cornhill in London.
Place Names
There are a few places in England that bear the name Warden in Kent, Northumberland, Bedfordshire and Northampton. In Scotland there are no parishes that bear the name.
Wardens in Forfar
Interestingly, looking at the 1881 census, Forfar region (or Angus) had the most people with the surname Warden than anywhere else in Scotland.
One gentleman of interest was born in Alyth, in Forfashire, in 1777, called William Warden. His father was Adam and his mother Charlotte Barron or Barrow. She was born in Kirriemuir and according to legend she was christened 'Charles Edward Barrow' allegedly because Bonny Prince Charlie had passed through the town around the time of her birth. In fact his mother was baptised as Charlet  Barron in 1749. William was educated at the local parish school and was later sent to St Andrews University to study medicine. He entered naval service as a surgeon's mate at the age of 17 and became a surgeon by the age of 21. He served on the Northumberland ship which carried Napoleon to St Helena. Although his French was limited, it would appear that both William and Napoleon had frequent chats via an interpreter which William recorded in his notebook. His notes were later given to a 'literary gentleman' who organized the publication of the Letters Written on Board His Majesty's Ship the Northumberland and at St Helena (1816). He went on to marry Elizabeth Hutt, daughter of Richard Hutt of Appleby from the Isle of Wight. They had two daughters and one son. He died in 1849 in Chatham, England.
Other famous Wardens include Allen F Warden (American politician, 1852-1927), Jack Warden (American movie actor 1920-2006), May Warden (British actress and comedian 1891-1978).
(Sources: Bardsley, C A Dictionary of English and Welsh Surnames, Oxford 1975; Reane P & Wilson R, A Dictionary of English Surnames, London 1901; ScotlandsPeople OPR Baptisms Barron Charlet 25/01/1749 299/10 119 Kirriemuir, Warden W, Letters Written on the Northumberland, London 1816; www.oxforddnb.com; www.collectionsrmg.co.uk)
Are you interested in the Hamilton family history in Scotland? Here is the latest in our series of posts about
Read More »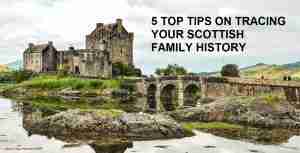 How to Research Scottish Ancestry using my top 5 tips Researching your Scottish ancestry can be easy if you follow my
Read More »
Lindsay Family History at Edzell Castle Do you have a Lindsay in your family history? Maybe your Lindsay ancestor was
Read More »