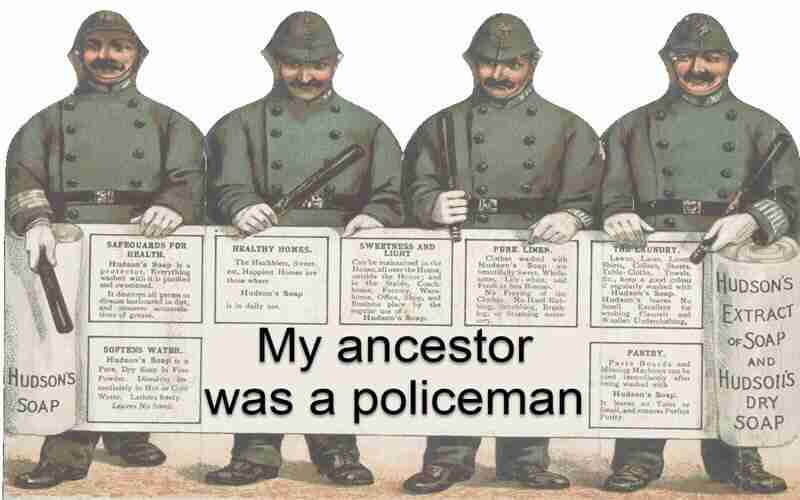 My ancestor was a policeman
Tracing police ancestors is like doing detective work.  Finding the right records is not necessarily an easy task and most of them are offline.  However, in this post I will signpost you in the right direction to start your detective work as part of my series about researching family history.  Check out my last post on poor relief records.
From the 18th century, poor working and living conditions gradually brought about a lot of unrest.  Living in slums, low wages and vagrancy all contributed to crimes stemming from desperation.  Consequently, the Scottish justice system was struggling to cope.  By 1800, Glasgow introduced a police act to establish a more formal system of policing which became the forerunner of the London Metropolitan Police.  Less serious cases were initially tried at police courts, while the more serious cases were tried in burgh courts.  Eventually by the end of the 19th century, the 1892 Burgh Police Scotland Act forced burghs to all have police courts.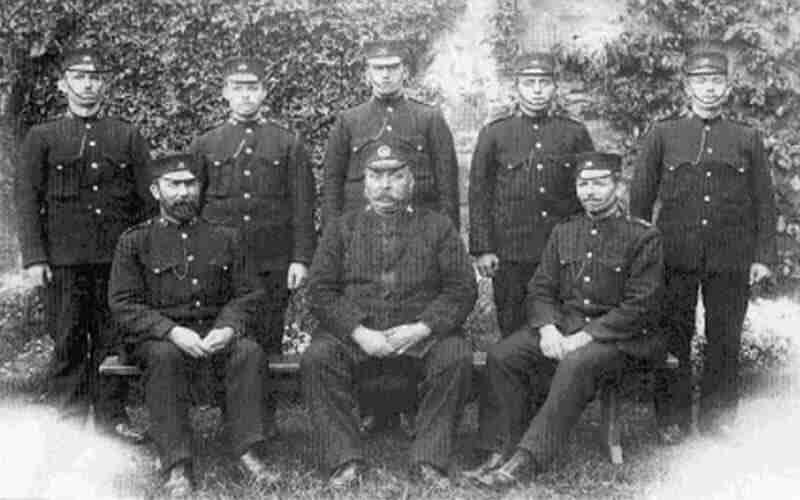 Tracing your police ancestors – using police service records in genealogy
Once the Scottish police courts were established, many policemen, detectives and constables left behind thousands of records for you to uncover.  With a methodical approach, details of our police ancestor can be uncovered.  There is a rich variety of records available including
staff records
police station records
police discipline books
memorandum and scrapbooks
correspondence files
photographs of policemen and police buildings
letter books of chief constables and other senior police officials
minute books of police authorities
statistical returns
annual reports
pay and pension books
criminal registers and photographs of criminals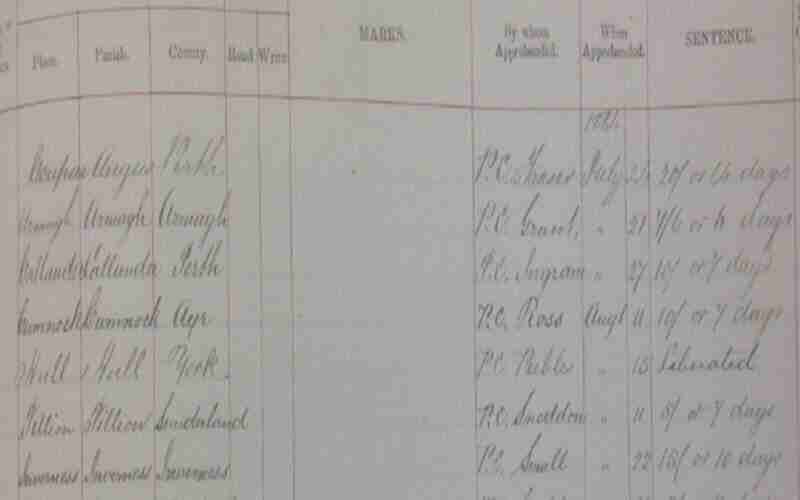 In the first instance, police staff records are the ones that you are interested in when tracing you police ancestor.  However, these records can take several different forms.
The early 19th century records included basic information on appointments and discharges.
Towards the end of the 19th century, the records, sometimes called personal record books, contained more detailed information about the individuals.  Information included:
their name
when they joined
marital status and number of children
residence
place of birth and sometimes date of birth
date of appointment and subsequent dates of promotions or demotions
salary levels
How to find police records for family history 
Most of their records in Scotland are offline.  Some will be indexed and others not.  To find them, you should first contact the local archive where your ancestor resided.  Once you have identified an archival centre, you should consult their online catalogue.  You should also consult neighbouring regions because they may not have worked in the same neighbourhood as the criminals.  Similarly, later police forces tended to recruit from outside their region.
If you want to trace a police ancestor from a particular parish, you should consult the Justice of the Peace records and Commission of Supply records for that county.  The records they left behind provide plenty of insight into the activities of police ancestors.
In larger cities, there are other resources that you can consult.
The Glasgow City archives at the Mitchell library have a number of police court records relating to the city from the early 1800s.
The Perth archives at the AK Bell Library have police records including a list of police, gaolers and executioners.
The Edinburgh City archives have the Lothian and Borders police documents including the police personnel records indexed alphabetically.
Further north, Aberdeen City archives also have records relating to the police from the 19th century.
So, it is worth checking regional archives by googling the region then online catalogue archives.  Alternatively, you can search on the SCAN website.  The online catalogue at the National Records of Scotland is also worth checking because your police ancestor might have been involved and mentioned in a court case.
Tracing police ancestors – family history using online police records
Online, you can find information about your police ancestor in the following locations:
Newspapers are a fantastic online resource for tracing police, as well as criminal ancestors.  Journalists enjoyed reporting on trials and hearings.  Inevitably, your police ancestor will be mentioned.  The British Newspaper Archive is a good place to consult.
FindmyPast has police records, but very few relating to Scotland. 
Ancestry has the Fife Police Records from 1858 to 1947. 
The National Library of Scotland Post Office Directories will include the names of your police ancestor.
The Glasgow Police Museum has fascinating facts and information about police ancestors. 
Following the progress of your police ancestor will mean a hunt for all kinds of information in the archives.  In other words, you become the detective.  In searching for a name, these records help to understand the professional life of your police ancestor.  Consequently, these records should be part of your research toolbox.
Finally, the police records are an invaluable resource to gain a better insight into the social history of the area where your ancestor lived.  Poverty was one of the main reasons for leading people into vagrancy and crime.  As crime became more sophisticated and photography became available, so did the records.  As a result, these records provide more information about individuals which is why they are so useful to family historians.
Old Occupations
If your ancestor had an interesting old occupation and you want to know more about it, then let me know and leave a comment below.  I would be happy to write about your ancestor's old occupation.
Did one of your ancestors worked as a constable?  If you need some help tracing your police ancestor, then feel free to get in touch and lets see if I can unlock your past.
Good luck in tracing your police ancestor.
Until my next post, haste ye back.
Unlock the meaning, origin and history of the Murray surname. Linked with the Moray region, its origins can be traced to the 12th century.
Read More »
Explore the rich legacy of Scottish weavers and discover where to find them in documents
Read More »
Explore the rich tapestry of pre-1855 burial records in Scotland. Find out where to locate these records offline and online.
Read More »