This is a blog about Peter Rennie, a gardener from Milnathort and Kinross. This may be of interest if you belong to the Rennie family from Fife or Kinross-shire.
Peter Rennie was born on the 31st of July 1837 in Inverkeithing in Fife[i].  He was baptised 6 days later at the Inverkeithing Associate Congregation and was the fifth child of Sebastian and Ann who had 11 children.  His father was also born in Inverkeithing around 1809 and he married Ann Gibson in the neighbouring town of Dunfermline on 24th May 1828[ii].  Dunfermline was once the ancient capital of Scotland and the birthplace of Andrew Carnegie.
When Peter was four years old in 1841, the family lived on Duloch estate which was, and still is, part of Dunfermline. By 1851, the family were living 10 miles away in Burntisland where Peter is identified as a scholar attending a local school. His older brother, Sebastian was working as an agricultural labourer like his father.
Before his marriage in 1866, Peter was working as a linen weaver and his father was listed as a domestic coachman in the 1861 census. They, with Ann and three of Peter's younger siblings, were living in the coach house of the Brucefield Estate in Dunfermline.  According to Scotlandsplaces website, this estate was owned by Erskine Beveridge who was the largest linen manufacturer in Dunfermline[iii].
Peter met his wife, Marion Morgan, at the Brucefield Estate where she was living and working as a servant.  They married on the 9th November 1866 in Dunfermline[iv].  Peter's occupation at the time of his marriage was labourer. Before working at Brucefield, Marion spent most of her life at Shanwell about 3 miles west of Milnathort, the village north of Kinross. Her father, John, was a servant living there in 1841 and 1851 and a coachman according to the 1861 and 1871 census. By 1881 her father was listed as a retired gardener.
The Shanwell estate was once owned by Andrew Coventry who was the first Professor of Agriculture in Great Britain[v]. The estate was passed down to George Andrew Coventry who was John Morgan's employer. George's wife later became Peter's employer.
On the eve of the 1871 census, Peter is found in Kinross as a domestic gardener staying with Janet Kinloch, a servant.  His wife, Marion, was next door with their three young children living in a cottage[vi]. It is likely that Peter and Janet were working for the owners of the neighbouring property because the enumerator noted that it had 23 windows, while his wife was living in the cottage that only had 4 windows.  Their neighbours were William Wilson, a banker at the Scottish Linen Company Bank, and Jane Gilmour, a landowner, both living on the Great North Road that went through Kinross.  Based on this information, Peter and his young family were living on the north side of Kinross, known as the Muirs, and he was working for one of his neighbours.
By 1881, Peter and his growing family were living in Sandport, south of Kinross.  Aged 41 and a gardener, Marion and Peter had 7 children aged from 14 years to 3 days.  Their names were:
Helen Meechie (Michie) – born on 16 January 1867 in Dunfermline.
Sebastian – born on 4 January 1869 in Dunfermline.
John Morgan – born on 1 October 1870 in Kinross.
Anne Gibson – born on 30 March 1873 in Kinross.
Peter Gibson – born on 28 Aug 1875 in Kinross.
Thomas – born on 2 August 1877 in Kinross and died 16 April 1878.
James – born on 19 March 1879 in Kinross.
His father, Sebastian, died that year on 17th April 1881 in Torryburn in Fife as a widowed retired master gardener[vii].
Peter changed employment by 1886 when he was employed as a coachman but still living at Sandport according to the local valuation rolls.
He returned to his gardening occupation by 1890 as a gardener at Shanwell, the estate where Marion used to live and where her father used to work.  He makes a small appearance in the Kinross-shire Advertiser below: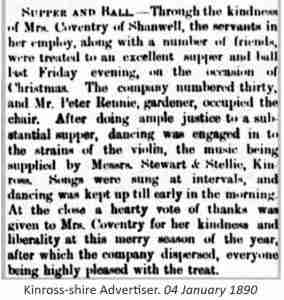 It is likely that they were celebrating Hogmanay as 'dancing was kept up till early in the morning' and the article was written shortly afterwards.  Peter 'occupied the chair' indicating that his position as gardener was highly regarded.  Mrs Coventry, widow of George Andrew Coventry, hosted the festivities where friends and employees were invited.
His position as gardener at Shanwell is again confirmed in the 1891 census and valuation roll for Kinross.  His yearly rent at Shanwell was £2 and 10 shillings[viii]. His grown-up children living at Shanwell were Sebastian, an unemployed printer; Peter, a grocer's apprentice; and James who was attending school.  Other children, born after 1881, made their appearance in the 1891 census:
Marion Morgan – born on 1 April 1881 in Kinross.
Jessie Jane – born on 27 January 1884 in Kinross.
George Andrew – born on 4 August 1886 in Kinross.
Peter remained a gardener at Shanwell until 1896 when Andrew Webster became gardener[ix].  That year, he moved back to Kinross living on Main Street with a yearly rent of £8.  That same year, his first-born daughter, Ellen Michie, married William Wheeler, a joiner.
Peter only stayed on Main Street for about a year because by 1897, he re-located to the Muirs, the area where he used to live in 1871, and his yearly rent had decreased to £6[x].
There is no immediate evidence to suggest why Peter moved away from Shanwell however the timing coincides when some of his children showed signs of mental illness. It would make sense to move to Kinross where transport was more easily accessible.
His first-born son, Sebastian was admitted to the Fife and Kinross District Lunatic Asylum, based in Cupar on 19th of September 1895[xi]. This was one of the first asylums to introduce the 'open door' policy which was developed by Sir John Batty Tuke, a psychiatrist and superintendent of the asylum.[xii] Sebastian was described as a single man and compositor living at Shanwell. The form of disorder was 'melancholia' with a supposed cause of insanity to be 'want of employment of trade'.  He had been feeling this way for about 7 months and was discharged on 14th November 1895 because he had 'recovered'.  Sadly, he was found drowned near Chapelton in West Kilbride on 7th of September 1898.  His cause of death was 'suspected suicide' according to his death register[xiii]. His 'melancholia' may have been linked to acute depression.
Two months later, his brother, John Morgan, was admitted to the same asylum on 7th November 1898[xiv]. He was described as single and a grocer with an average body condition.  His mental disorder was 'mania' and cause of insanity was 'heredity' and religion. The word 'heredity' may be associated to the death of his brother indicating depression.  He was discharged 8 months later on the 7th of July 1899.  Fortunately, he did not return to the asylum, and spent his life working as a postman in Kinross until his death in 1932.
Their sister, Anne Gibson, was also admitted to the asylum on 26th February 1897 when she was 23 years and 6 months old[xv]. She was described as a single woman and domestic servant living at the Muirs with her parents. The form of mental disorder was also 'mania', however there was no cause identified for her illness. Apparently, she started to have the 'attacks' at the age of 22 in 1895, about the same time when Sebastian was admitted to the asylum, and had lasted for about two years.  The clerk noted that she was 'never quite right'.  She was discharged a few months later on the 28th of May 1897.
Unfortunately, Anne was re-admitted to the asylum the following year on the 4th March 1898[xvi]. The form of mental disorder was described as 'melancholia' and the name of disorder was given as 'somewhat anaemic'.  Like her brothers, she may have also suffered from depression. Sadly, she remained there until her death in 25th January 1949.
The year 1898 must have been a very difficult year for the family when Anne and John were admitted to the asylum and Sebastian had committed suicide.  Sadly, it did not stop there.  A few years later, their younger sister Marion Morgan, was admitted to the same asylum on 8th September 1900 as a single women and domestic servant[xvii]. Like her siblings, her form of disorder was 'acute mania' and the cause was described as 'religion' lasting for about a week prior to her admission to the asylum.  She was discharged on the 24th of January 1901 because she had recovered. However, she was re-admitted 19 years later on 29th of June 1920 and described as a single woman working as a housekeeper and living in the Muirs in Kinross.  She was admitted because she had attacks of 'mania' and the cause was given as 'heredity' which may be linked to her siblings also having 'mania'. She never returned home to the Muirs because she was 'transferred to informal' in 1961 at the age of 80 and died there 3 years later in 1964 in a 'retreat near Cupar' which was probably the asylum[xviii]. Her death included 'schizophrenia' among other causes on her death register.
As for Peter's other children, his youngest daughter, Jessie Jane, emigrated to America in 1913 while Peter Gibson moved to Bedfordshire where he appeared in the 1939 register. James remained in Kinross in the Muirs as a gardener until his death in 1955. George Andrew died in Glasgow in 1967.
Peter stayed in the Muirs with his wife, Marion, and worked as a gardener until his death on 29th December 1916[xix].  His wife had died the previous year on 26th of March 1915[xx].
REFERENCES
[i] ScotlandsPeople OPR Baptisms under Other Churches. Reference is Inverkeithing Associate.
[ii] ScotlandsPeople OPR Banns/Marriage 432/40/172 Inverkeithing
[iii] www.scotlandsplaces.gov.uk/digital-volumes  accessed 17.01.20
[iv]  ScotlandsPeople Statutory Marriages 424/2/42 Dunfermline Landward
[v] www.oxforddnb.com (Oxford Dictionary of National Biography) accessed 17.01.20
[vi] National Records of Scotland. 1871 Rennie, Peter Census 462/1/12
[vii] ScotlandsPeople Statutory Deaths 458/4 Torryburn
[viii] Kinross Museum. Kinross Valuation Rolls from 1891 and 1896
[ix] Kinross Museum. Kinross Valuation Roll 1896-1897
[x] Kinross Museum. Kinross Valuation Roll 1897-1898
[xi] Fife Collections Centre; Fife and Kinross District Asylum General Registers; Ref: H\Str\3\2\2
[xii] www.wikipedia.org accessed 11.02.20
[xiii] ScotlandsPeople Statutory Deaths 620/27 West Kilbride
[xiv] Fife Collections Centre; Ref: H\Str\3\2\2
[xv] Fife Collections Centre; Ref: H\Str\3\2\2
[xvi] Fife Collections Centre; Ref: H\Str\3\2\2
[xvii] Fife Collections Centre; Ref: H\Str\3\2\2
[xviii] ScotlandsPeople Statutory Deaths 240/242 Cupar
[xix] ScotlandsPeople Statutory Deaths 426/35 Kinross
[xx]  ScotlandsPeople Statutory Deaths 426/23 Kinross
Featured photo created by tirachard – www.freepik.com
Unlock the meaning, origin and history of the Murray surname. Linked with the Moray region, its origins can be traced to the 12th century.
Read More »
Explore the rich legacy of Scottish weavers and discover where to find them in documents
Read More »
Explore the rich tapestry of pre-1855 burial records in Scotland. Find out where to locate these records offline and online.
Read More »