Was your ancestor a Postal Worker?
In my series of old occupations, this month I am looking at postal workers who worked in the UK, and how our ancestors used the post.  I have also included the top 4 places to find information about your ancestral postal worker.
With Valentine's Day approaching, it is likely that your ancestor sent a valentine's card to his or her beloved.  Or perhaps your ancestor worked for the post office just like my grandfather did.
Postal Transportation
Before 1830, postal workers normally carried the post by coach, cart horse or on foot by messengers.  However, once the railways were reliable, they became the main method of transport to carry the post.  In fact, there were 5 different railway routes in Scotland to send post.  Although this new method of transport was quick and efficient, it still could not carry the post to the most rural areas of the country.  Bicycles were used by the late 19th century, followed by motor vehicles into the 20th century.  Here is a photo of my grandfather in his postal uniform on a motorcycle: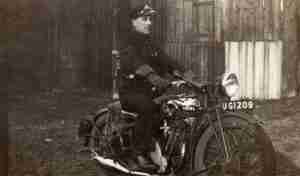 Today, letters have been replaced by emails and text messages… when was the last time you wrote a letter?
Overseas Post
Perhaps one of your ancestors emigrated to a far-away land in search of a better life?  Although they left their Scottish roots, your ancestor still wanted to stay in touch with their loved one back home.  More people wanted to write and the increase in literacy levels across Scotland meant that they were able to.  This, combined with the introduction of the penny post and the growth of the railways, led to a huge increase in the amount of post being written and sent.
Writing Style
In their letters or postcards, people could pass on gossip or news of illnesses and deaths, offer condolences, or inform people of recent marriages or births.  Over time a variety of cards were offered to illustrate news: such as a valentine, birthday or a condolence card.
If you have old letters in your loft or in a discarded suitcase, then they will give you a good idea of how your ancestor spoke and what language they used.  They can also show you how close people were if they used informal language.  Old correspondence is a great resource if they wrote about their hobbies or talents.  They can also give you an idea where your ancestor visited if they sent a postcard.  Here is a postcard from my father to his grandmother.  He was on the Isle of Arran asking for anti-midge bite cream as a matter of urgency!  Notice that he forgot to put a stamp on, and it still made it to his grandmother's house.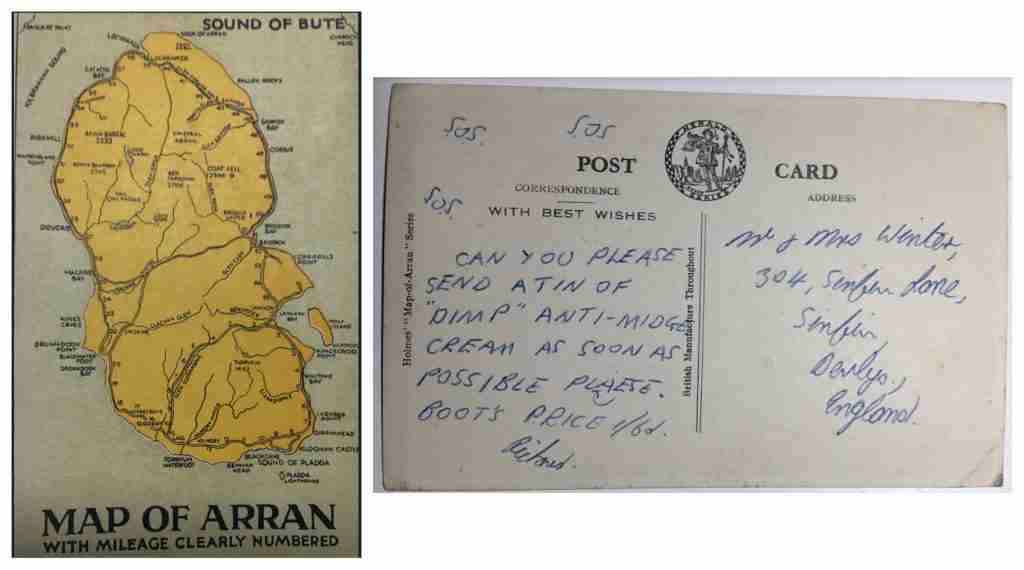 Surviving family letters can really bring your ancestor to life.
Where to Find your Ancestral Postal Worker
Ancestry has the Postal Museum appointment books 1831 -1969 which includes indexes to the Postmaster General's minute books.  The appointment books show when a postal worker started working for the Post Office or when they started a new position within the Post Office.  They include information on the name of the appointee, their job, date of appointment and location.  Here is an entry for my grandfather, Ernest Horace Chapman, who was a postman manager in Leeds in 1936:
The Postal Museum based in London has a range of resources to help you if your ancestor was a postal worker.  If you contact them, they can help with your research for a fee.  They have :
the Pensions and Gratuities Books: they can give details of an ancestor's career,
the Appointment Records Books which can be searched online on Ancestry, and
the Establishment Books: it has lists of people who were employed in a particular department in a given time.
The GPO War Heroes website allows you to search by name those who worked for the Postal Service and gave their lives in the two world wars.
The Addressing Health Data Mapper contains some information about postal workers who may have retired between 1860 and 1902.  The online database has digitised copies of pension records.
Look out for future blogs on old occupations.  If you have any questions about this blog, or if you would like to share your own ideas about how family history is important, then leave a comment below …
Unlock the meaning, origin and history of the Murray surname. Linked with the Moray region, its origins can be traced to the 12th century.
Read More »
Explore the rich legacy of Scottish weavers and discover where to find them in documents
Read More »
Explore the rich tapestry of pre-1855 burial records in Scotland. Find out where to locate these records offline and online.
Read More »